I love music. It follows me everywhere I go – whether at home or holidays. I was therefore thrilled to receive my portable EasySMX Bluetooth Superior Omnidirectional Speaker before jetting off to the Balearic Islands for the summer holidays. It's a must-have for lazing at the beach and pool (or throwing the impromptu house party).
The EasySMX Speaker is one of the best Bluetooth products on the market that I've tested and reviewed. It's a radiator and omni-director speaker, so produces great sound. For those less tech savvy, this means the speaker has no back end coil (like most other speakers), while its omni-directional function radiates the sound from both sides of the speaker (and not only the front). You get great sound along with some good bass, depending on the quality bit rate of your tracks. The speakers give out 5 Watts of power and has Bluetooth version 4. So top marks all around.
It's endurance and capacity are great – lasting several hours on the beach for me. The speaker has two internal batteries, which have a capacity of 2200mAh (combined capacity 4400mAh). To put that into perspective, that's above the capacity of large screened Smartphones.
When you use the supplied USB charging cable, the three red charging lights on the top left hand side are illuminated. Depending on the state of charge in the battery, you will get three red light for a full charge. At one red light, go charge it before the power runs out.
The Bluetooth and the Auxiliary lights are beside the charging lights. When you connect your device via Bluetooth, the light will flash very fast. Once connected, it will be static. And when you pause your music or audio book, the light will flash again but with a shorter flash. It's so easy to use; just pair the speaker and your mobile phone's Bluetooth with the name "BX200".
Next to the Volume button you have the options to skip your music or audio books back and forth. To the right is the large round On/Off Power button. To the left is the Play/Pause button. The Mode button, which has the letter M on it, switches between Bluetooth and Auxiliary modes. It's all so easy to use.
This speaker was the perfect holiday accessory. It's small, compact and easily portable, and I especially love its retro look. It would definitely make a great gift for a friend or someone special. As Shakespeare said: "If music be the food of love, play on and give me excess of it". There's no better portable device to play on – at home or holidays – than the EasySMX Pinshow Bluetooth Superior Omnidirectional Speaker!
Please use my personalised discount code 120991OF to get 15% off this amazing Bluetooth speaker
---
 Shop the EasySMX Pinshow Bluetooth Omnidirectional Speaker – Here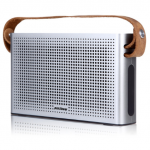 Comments
comments