Jewellery is a very personal thing. Whether simple or bold, it should tell a story about the person who's wearing it. It might be a ring, a bracelet or my favourite accessory, a necklace. So last week, I had the absolute pleasure to visit the Stephen Einhorn shop and workshop in leafy Islington. Of all their fantastic designs and flawless accessories forged from various precious stones and fine metals, I instantly fell in love with their Kris Dagger pendant necklace. For me, the pendant symbolises both outer strength – a weapon – and inner spirit.
The necklace was bespoke made for me to tell my story. I selected the precious metal (options include silver, yellow gold and white gold) and the precious stone set in the dagger's centre. I'm so happy with the final product!
Brand History:
Stephen Einhorn is a truly British family business. Stephen Einhorn and Jane Best started their business in 1995 to manufacture jewellery designs of originality and style, using skilled British craftsmen and craftswomen. All their jewellery pieces are hand crafted in their workshop in Islington, located behind the main store.
Today, Stephen Einhorn is synonymous with quality, exclusivity and cutting-edge design within contemporary British men's and women's gold and silver fine jewellery. With a focus on both original and bespoke designs, it's easy to appreciate why Stephen Einhorn jewellery is admired and loved by both industry creatives and loyal customers, who stretch from his hometown of London to Paris, Hong Kong and the Hollywood Hills.
I was so impressed to hear that he has also created bespoke designs for many Hollywood films. These include including pieces for Allied (with Brad Pitt and Marion Cotillard), Miss Peregrine's Home for Peculiar Children (with Eva Green) and the Hollywood version of Alice Through the Looking Glass (with Sacha Baron Cohen).
Make sure you visit Stephen Einhorn for the very best of British jewellery. Trends come and go, and style evolves. It's important to have pieces of jewellery that are timeless and look chic despite ever-changing fashions.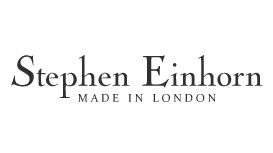 Comments
comments