Travel opens you up to a world of adventures and new experiences, but it can be expensive. Many people let money hold them back when it comes to getting out there and seeing the world, but there are ways to do it on a smaller budget. Backpacking is a humble way to see the world– it's not fancy but it gives you experiences that are much different to a five star vacation and allows you to get out there without tonnes of money in the bank. If you're considering a backpacking adventure, here are a few thing to keep in mind.
Where Will You Go?
Do you have a particular continent or country in mind where you want to go backpacking? It could be for example be Thailand, Australia, Turkey, Peru, Indonesia or the Americas. Once you know where in the world you want to go, start planning your route. If there are particular attractions or landmarks you want to see then you will need to keep this in mind. Even the smaller details like are there particular restaurants you want to try, or shows you want to see? Places like Travelsphere offer escorted tours which could be a good way to explore and learn about different destinations.
With a Tour or Going Alone?
If you've never been backpacking before or you're travelling alone, you might want to book a tour group. That way you won't get lost or stranded and you will meet other like minded travellers. If you're more experienced or have your own group, you could go it alone. Just be careful as it can be dangerous, especially when you're on foot in a part of the world you don't know well. You don't want to end up in an accident or lost putting you in a vulnerable position.
What To Bring?
Knowing what to bring can be tricky when you're backpacking. On one hand you want to come prepared, on the other you need to travel light so you're not so weighed down. Find a good quality backpack which is the right size for you and feels comfortable. Decide what you will need to wear based on the climate and make smart clothing choices. It's certainly not a fashion show, practicality rules here! If you're in a hot country with mosquitos for example you will want long, light layers to protect you without overheating. In a cold climate you will need thermal layers, hats, scarves, gloves and a sleeping bag which is sufficient for lower temperatures. You will need to decide if you're bringing a tent (privacy and protection but heavy) or a hammock (light and transportable but offers no protection. A water cleaning kit could save your life if you get lost and run into trouble. And a first aid kit with all of the essentials against injuries such as bone breaks, scratches and cuts. That way you can patch yourself up until you can get medical attention. You will need food too- go for highly nutritious, lightweight foods that don't perish quickly. Dried fruit and nuts and protein bars are examples.
Where to bring?
Just as important as the topics mentioned above is to travel in style. On that note, American Tourister offer stylish suitcases, hand luggage, backpacks and bags for any travel occasion. I've recently traveled to Poland using the new American Tourister Soundbox suitcase.
The award-winning Soundbox collection features an impactful concentric circle design that takes inspiration from retro vinyl records. This is their first zipped polypropylene suitcase with expandability, giving you the flexibility and increased packing space you need. Feel the sound and travel light with their bright and playful Soundbox cases. Available in a range of bright and playful colours and colour matching components.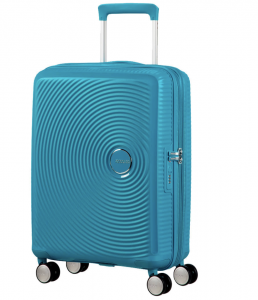 Comments
comments